So where to begin?
In this research study we have to start by explaining an idea we initially had regarding the crop patterns and what they in reality may be.
There were a number of questions that rose through early research like:
How could a flat simple line drawing affect and change the crystalline structure of a crystal when placed on top of the line drawing of a crop pattern in tests while the other test crystal did not get affected while sitting on the same bench without a line drawing beneath?
How could a simple line drawing have the energy to change the property and layout of the crystals structure and what was that energy
Where did it come from.
Did the pattern create it or was there another explanation.
Why do the real patterns affect people who enter them in a physical way health wise in many cases in a positive way, while others feel ill.
How do the patterns get there in the first place.
Are the patterns linked to human genetics in some way that we have yet to discover.
Why do patterns appear that groups think about a few days before and in some cases only a few hours before and what is the link.
These are just some of the questions being looked at by us at present and we know think there is an answer apart from the common general thinking that they are man made.
We can tell you this! Many are not and we think we now know not only what they are but where they come from!
Some of what you are about to read will challenge the way you think and what you may believe about humanities existence on this planet. One thing is certain and commonly understood by many geneticists today. Humanity could not have developed naturally on this planet due to the complex nature of our genetic sequence.
So to begin with here is a crash course in genetics and we will try to keep it simple.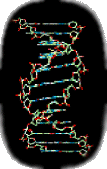 DNA is a two-stranded molecule. Each strand is a polynucleotide composed of A (adenosine), T (thymidine), C (cytidine), and G (guanosine) residues polymerized by "dehydration" synthesis in linear chains with specific sequences. Each strand has polarity, such that the 5'-hydroxyl (or 5'-phospho) group of the first nucleotide begins the strand and the 3'-hydroxyl group of the final nucleotide ends the strand; accordingly, we say that this strand runs 5' to 3' ("Five prime to three prime") . It is also essential to know that the two strands of DNA run antiparallel such that one strand runs 5' -> 3' while the other one runs 3' -> 5'. At each nucleotide residue along the double-stranded DNA molecule, the nucleotides are complementary. That is, A forms two hydrogen-bonds with T; C forms three hydrogen bonds with G. In most cases the two-stranded, antiparallel, complementary DNA molecule folds to form a helical structure which resembles a spiral staircase. This is the reason why DNA has been referred to as the "Double Helix".
One strand of DNA holds the information that codes for various genes; this strand is often called the template strand or antisense strand (containing anticodons). The other, and complementary, strand is called the coding strand or sense strand (containing codons). Since mRNA is made from the template strand, it has the same information as the coding strand. The table above refers to triplet nucleotide codons along the sequence of the coding or sense strand of DNA as it runs 5' -> 3'; the code for the mRNA would be identical but for the fact that RNA contains U (uridine) rather than T.
An example of two complementary strands of DNA would be:
(5' -> 3') ATGGAATTCTCGCTC (Coding, sense strand)
(3' <- 5') TACCTTAAGAGCGAG (Template, antisense strand)
(5' -> 3') AUGGAAUUCUCGCUC (mRNA made from Template strand)
Since amino acid residues of proteins are specified as triplet codons, the protein sequence made from the above example would be Met-Glu-Phe-Ser-Leu... (MEFSL...).
Practically, codons are "decoded" by transfer RNAs (tRNA) which interact with a ribosome-bound messenger RNA (mRNA) containing the coding sequence. There are 64 different tRNAs, each of which has an anticodon loop (used to recognize codons in the mRNA). 61 of these have a bound amino acyl residue; the appropriate "charged" tRNA binds to the respective next codon in the mRNA and the ribosome catalyzes the transfer of the amino acid from the tRNA to the growing (nascent) protein/polypeptide chain. The remaining 3 codons are used for "punctuation"; that is, they signal the termination (the end) of the growing polypeptide chain.
8-/16-/32-/64 (61 plus the 3 seperators (Punctuations)marked in green) The reason we have laid this out is to show 3 groups of 4 sequences each divided by a punctuation in green as mentioned above.
Lastly, the Genetic Code in the table below has also been called "The Universal Genetic Code". It is known as "universal", because it is used by all known organisms as a code for DNA, mRNA, and tRNA. The universality of the genetic code encompases animals (including humans), plants, fungi, archaea, bacteria, and viruses. However, all rules have their exceptions, and such is the case with the Genetic Code; small variations in the code exist in mitochondria and certain microbes. Nonetheless, it should be emphasized that these variances represent only a small fraction of known cases, and that the Genetic Code applies quite broadly, certainly to all known nuclear genes.
Second Position of Codon

T

C

A

G

F
i
r
s
t

P
o
s
i
t
i
o
n

T

TTT

Phe

[F]

TCT

Ser

[S]

TAT

Tyr

[Y]

TGT

Cys

[C]

T

T
h
i
r
d

P
o
s
i
t
i
o
n

TTC

Phe

[F]

TCC

Ser

[S]

TAC

Tyr

[Y]

TGC

Cys

[C]

C

TTA

Leu

[L]

TCA

Ser

[S]

TAA

Ter

[end]

TGA

Ter

[end]

A

TTG

Leu

[L]

TCG

Ser

[S]

TAG

Ter

[end]

TGG

Trp

[W]

G

C

CTT

Leu

[L]

CCT

Pro

[P]

CAT

His

[H]

CGT

Arg

[R]

T

CTC

Leu

[L]

CCC

Pro

[P]

CAC

His

[H]

CGC

Arg

[R]

C

CTA

Leu

[L]

CCA

Pro

[P]

CAA

Gln

[Q]

CGA

Arg

[R]

A

CTG

Leu

[L]

CCG

Pro

[P]

CAG

Gln

[Q]

CGG

Arg

[R]

G

A

ATT

Ile

[I]

ACT

Thr

[T]

AAT

Asn

[N]

AGT

Ser

[S]

T

ATC

Ile

[I]

ACC

Thr

[T]

AAC

Asn

[N]

AGC

Ser

[S]

C

ATA

Ile

[I]

ACA

Thr

[T]

AAA

Lys

[K]

AGA

Arg

[R]

A

ATG

Met

[M]

ACG

Thr

[T]

AAG

Lys

[K]

AGG

Arg

[R]

G

G

GTT

Val

[V]

GCT

Ala

[A]

GAT

Asp

[D]

GGT

Gly

[G]

T

GTC

Val

[V]

GCC

Ala

[A]

GAC

Asp

[D]

GGC

Gly

[G]

C

GTA

Val

[V]

GCA

Ala

[A]

GAA

Glu

[E]

GGA

Gly

[G]

A

GTG

Val

[V]

GCG

Ala

[A]

GAG

Glu

[E]

GGG

Gly

[G]

G
The TCAG sequence is in black letters in the first column down the T-Phase in the 3rd position.

In the C-Phase the same position is held and so in the other 2.

The central ID is relevent to the top id such as the T-Phase is always in the middle so too is the C,A,G.

The TCAG-Phase is run in groups of 4 straight and then rotates T,C,A,G. in the first position to 4 places per 4 blocks down.

Note each column is 16 places long. and variations 4 wide. Thus we have 16 in total for the T-Phase down.

The same is for the others. Or 64 in total. 16 x 4=64

This gives us 4 across and 16 down. Remember though that only certain combinations in specific groups are used.

Now remember the numbers because they are very important in linking this all together.

Now let's explain the two complimentary strands of DNA example above:

ATG in the first (5'-> 3') example is shown in red and also in red on the table so you can see the MET reference and how it is associated. You should be able to follow the rest. Thus the Met-Glu-Phe-Ser-Leu is explained! The (3'<- 5') should also be evident.

You may have to go over this a few times to get it clear and I recommend that you do this before continuing!

Part Two

This is what is known as universal genetic code which is a combination of 64 variables which in turn is used in sequences of 4 x 16.

However in the prior example 15 were used ATGGAATTCTCGCTC

Or 5 blocks of 3, or 5 sequences of 3.

Now we all have heard of the body clock so lets go straight to the point. What is it connected to or better still how does it keep time.

The answer is the following example.

Remember the (5'-> 3') etc above. It gave us 15 in the sequence. ATGGAATTCTCGCTC

Here then is the time link joined as it were to the rotational sequence on the planet.

24=hours
360=rotation of earth
60=minutes per hour
1440=minutes every 24 hours.
So each degree of rotation takes 4 minutes.
Or 360x4=1440.
Or 15 degrees per hour. 60/4=15
15x24=360.

So here we have 1 degree per 4 minutes of rotation so 15 degrees is 1 hour. The 15 sequence above is an example but it provides a way for you to understand how the two aspects of rotation and time are connected by movement. This same system is also worked regarding the earths rotation around the sun and is orientated to each degree so as the world turns we age. Obviously our understanding and calculation of time has to be adjusted every now and then by a leap year inclusion and the occasional adjustment in milliseconds of the GMT atomic clock.

If you want exact rotational time lengths then we have to move into the harmonic level of time which is done like this:

360>1440=0.25 (This is a neutral cycle and has no connection to time except that it keeps 3d space in check with it by a process of separating by a .25 time phase from one D to another. (D = Dimension) or in other words the example .25 integer series represents the energy barrier that separates matter and antimatter otherwise this universe would not be.

The harmonic identifier of time is calculated thus:

24 hours divided by 360 = 0.06666666 This is the time harmonic math series.

Remember if we calculate the reverse we get 15 which is the result of 360 degrees divided by 24 hours which leaves 15 degrees per hour. In order to discover the equation for each hourly time frame you reverse the process thus discovering the math equation which assists in the discovery of the harmonic math series for time.

That same series can be found in the day to day cycle as the energy changes from .3333,.6666,.25.

For more on this it is best if you read up on some of the other research we have on harmonics in both the Egypt section of the rajon web site and also research on crop circles and how the day cycle is calculated and the results thereof.

There are two cycles that exist one left and one right. and can be seen in the yearly calendar cycle that we have. Again an example of this can be found in other work on our web site.

Now taking this further we find that the maths shows us that if we use the two cycles in tone pairs which are know as compatible pairs then we would see a result of a helix form within a smoke filled chamber which not only rises upwards and has zero gravity within each helix loop but also a geometric shape at its base.

Now if each pattern has a sequence of harmonics that are linked to our genetic sequence then it also figures that the energy from those patterns should not only heal but also enhance. And so evidence emerges of this occurring in any number of people who visited certain patterns over the years. And yet even more work we have done has shown that if a number of patterns in groups of 8 or 16 are used in just a simple line drawing capacity the results again have shown health improvement.

Part two of this research will continue soon.