Crop circle wheels are combinations of designs found to be compatible through research work Dr Jonathan Sherwood has done over the years and now are available as a month by month calendar and each wheel can be collected and used in any number of ways. You can cut out the wheels and use them in healing, meditation, balancing and much more. There are 12 in the set and beautifully designed and created by Dr Sherwood himself you get one for each month of the year. We have found that the combinations have to match the harmonic for the year so each year they are different in style and combination set groups. Each wheel is a combination of line drawings which look like the sample below.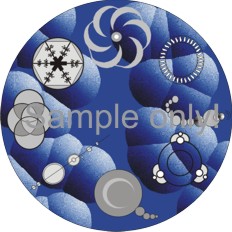 8 designs all balanced and matched. This cannot be just done at random each set is compatible with the others in the wheel and takes months to calculate each single group of 8 combinations.
Each one is unique and all are copyrighted so are only available from us.
Order your calendar today for 2009. (Wholesale orders accepted email us for further details!!)